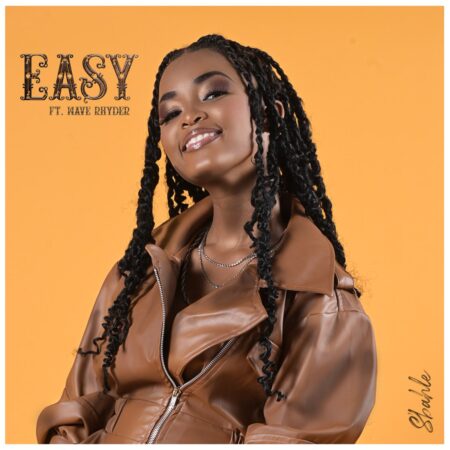 Sbahle – Easy ft. Wave Rhyder mp3 Download free
As we groove towards the weekend vibes, top notch singer and songwriter Sbahle who have been on the lips of every music lovers lately decides to further perfect her stage name with a new 2023 song titled Easy where she connects with Wave Rhyder where they also served the full lyrics. Download below and enjoy.
TRENDING NOW: Danya Devs – Ebhuthini ft. Wave Rhyder
Stream, and share "Easy". Don't forget to drop your comments below.
Sbahle – Easy ft. Wave Rhyder download mp3
Lyrics:
[Intro: Sbahle, Wave Rhyder]
Uthando lwakho lungshaya ngaphakathi baby
Noma ungona njalo dali uthando alpheli
U khona jwang darli
U etsa kang lovie?
Nna ke rata wena fela, hmm
[Chorus: Wave Rhyder, Sbahle]
Athe lerato, ke ntho e monate so
E monate so
Wena u etsa ho be easy, ho be easy
Ho be easy ho u rata
Ao che, ao motho oaka
Athe lerato (Aw'uthando)
Ke ntho e monate so (Into emnandi so)
Wena u etsa ho be easy (Wenza kube lula)
Ho be easy
Ho be easy ho u rata (Kube easy uk'thanda)
Aw'motho waka
[Verse 1: Sbahle]
Dali ufike lapho besengincamе khona
Beng'ngazi ofana nawe usasekhona
Why ungеnza so?
Ngoba ngawe mina ng'sure
Ukwenza kube lula ukuthanda wena
Oh-oh yi baniningi
Beyibika kodwa hay' abafiki kuwe
Mina ngikhetha wena
Ukwenza kube lula ukuthanda wena, mmh yeah
[Refrain: Sbahle]
Kanti uthando into emunandi kanjena? (Into emunandi kanjena)
Wena wenza kube lula (Kube lula)
Kube lula, ukuthanda wena
[Chorus: Wave Rhyder, Sbahle]
Athe lerato (Aw'uthando), ke ntho e monate so (Into emnandi so)
Wena u etsa ho be easy (Wenza kube lula), ho be easy
Ho be easy ho u rata (Kube easy uk'thanda)
Ao che, ao motho oaka
Athe lerato (Aw'uthando)
Ke ntho e monate so (Into emnandi so)
Wena u etsa ho be easy (Wenza kube lula)
Ho be easy
Ho be easy ho u rata (Kube easy uk'thanda)
Aw'motho waka
[Verse 2: Wave Rhyder]
Ene oa tseba ho ntshwara
Ho ntshwara monateng mamazala
Haele bananyana ba o waba phala
Body ea hao e chesa ho feta mashala
Nna wa tseba kea u tlala
Hakena le wena hahona mo nkayang
Ke khathetse ke banana ba ndlalang
O ba fa pelo ke ntho ya pele e bae robang
Empa u fihlile dali
U nkhamisa happiness
Ene ex ya hao ke bari
Ka lerato ha a tsebe nex, yeah
I wouldn't trade you for nothing
U etsa rato le be monate
Enhlizweni yami awuconsi phansi
Ke rata wena darli
[Chorus: Wave Rhyder, Sbahle]
Athe lerato (Aw'uthando), ke ntho e monate so (Into emnandi so)
Wena u etsa ho be easy (Wenza kube lula), ho be easy
Ho be easy ho u rata (Kube easy uk'thanda)
Ao che
[Outro: Sbahle]
Aw' mina ngthand' indlel' ong'bamba ngayo
(Shebeleza) Aah
(Shebeleza) Eeh
(Shebeleza) Eeh-oh-oh
Ah, oh
(Shebeleza) Aah
(Shebeleza) Eeh
(Shebeleza) Eeh-oh-oh
Ah, oh
(Shebeleza) Aah
(Shebeleza) Eeh
(Shebeleza) Eeh-oh-oh
Ah, oh
(Shebeleza)
Aw' mina ngthand' indlel' ong'bamba ngayo
(Shebeleza) Aah
(Shebeleza) Eeh
(Shebeleza) Eeh-oh-oh
Ah, oh
(Shebeleza) Aah
(Shebeleza) Eeh
(Shebeleza) Eeh-oh-oh
Ah, oh
(Shebeleza) Eeh
(Shebeleza) Ahh
(Shebeleza) Eeh-oh-oh
Ah, oh
(Shebeleza)