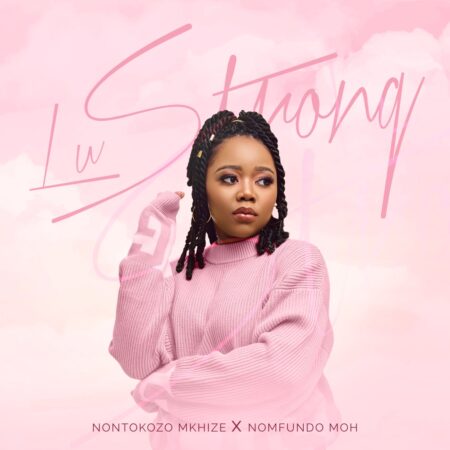 Nontokozo Mkhize – Lu Strong ft. Nomfundo Moh mp3 Download free
Durban based top notch music artist and performer Nontokozo Mkhize who have been breaking records with her angelic vocals is here today with her highly anticipated 2023 song titled Lu Strong featuring Nomfundo Moh where they also served the full lyrics. Download below and enjoy.
SEE ALSO: Xowla – Intando ft. Mduduzi Ncube
Stream, and share "Lu Strong". Don't forget to drop your comments below.
Nontokozo Mkhize – Lu Strong ft. Nomfundo Moh download mp3
Lyrics:
[Intro]
(Yeah, you kow it)
[Pre-Chorus: Nontokozo Mkhize]
Bahlala bel'zamazamisa uthando lwethu
Bahlala bel'zamazamisa uthando lwethu
Bahlala bel'zamazamisa uthando lwethu
Bahlala bel'zamazamisa uthando lwethu
[Chorus: Nontokozo Mkhize]
Bafika lu strong, lu strong
Bafika lu strong, baby
Bafika lu strong, lu strong
Bafika lu strong, baby
[Verse 1: Nomfundo Moh]
Ngiyaqonda naw'uyang' verstaan-a baby (Baby)
Zange ngathola uthando olufana nal'owakho, yebo
Bayahlasela futhi kuyazwela
Kodwa imizamo yabo iyophela, somelele thina, yeah
[Pre-Chorus: Nontokozo Mkhize, Nomfundo Moh]
Bahlala bel'zamazamisa uthando lwethu (Uthando lwethu)
Bahlala bel'zamazamisa uthando lwethu (Lona uthando lwethu)
Bahlala bel'zamazamisa uthando lwethu (Uthando lwethu)
Bahlala bel'zamazamisa uthando lwethu (Yelele, yelele, yelele, yelele)
[Chorus: Nontokozo Mkhize, Nomfundo Moh]
Bafika lu strong (Yelele, yelele), lu strong (Yelele, yelele, yelele)
Bafika lu strong (Yelele, yelele), baby (Yelele, yelele, yelele)
Bafika lu strong (Yelele, yelele), lu strong (Yelele, yelele, yelele)
Bafika lu strong (Yelele, yelele, yelele), baby
[Verse 2: Nontokozo Mkhize]
Gabi, gabi kubo
Bayogcina ngokukhuluma laba
Ngeke besenze lutho
You are and you are and you'll be
Isithandwa sami sengunaphakade
[Pre-Chorus: Nontokozo Mkhize, Nomfundo Moh]
Bahlala bel'zamazamisa uthando lwethu (Uthando lwethu dali)
Bahlala bel'zamazamisa uthando lwethu (Uthando lwethu dali)
Bahlala bel'zamazamisa uthando lwethu (Uthando lwethu dali)
Bahlala bel'zamazamisa uthando lwethu (Yelele, yelele, yelele, yelele)
[Chorus: Nontokozo Mkhize, Nomfundo Moh]
Bafika lu strong (Yelele, yelele), lu strong (Yelele, yelele, yelele)
Bafika lu strong (Yelele, yelele), baby (Yelele, yelele, yelele)
Bafika lu strong (Yelele, yelele), lu strong (Yelele, yelele, yelele)
Bafika lu strong (Yelele, yelele, yelele), baby
.
[Outro: Nontokozo Mkhize]
Loluthando lwethu
Basibona sibancane laba
Bel'zamisa uthando lwethu
Uthando lwethu
(Yelele, yelele, yelele)